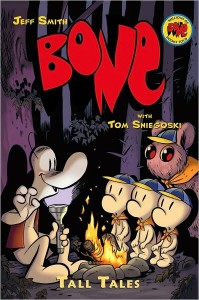 Buried in the utter avalanche of nerd-related news coming out of
San Diego Comic Con International
this past week were a few tidbits of things we're actually super excited about here. One of the most notable was the news that
Jeff Smith
is going to be coming out with new
Bone
books. If you don't know ...
Bone
is one of the greatest comics ever made and we all love it to death. It's up there with
Watchmen
I think, as one of the most enduring works of the medium. The best point of reference I can think of is what if Disney was utterly awesome (and not just, you know, Disney) and made a Lord of the Rings cartoon. It's just ... NEW BONE BOOKS! Right? Awesome.
Well, mostly new. First is a new series called
Bone: Tall Tales
, which is only going to be drawn by Smith (written by Tom Sniegoski), which will be a reworking of
Stupid, Stupid Rat-Tails
, colorized, and with extra material. That should be in stores next month I think. Then, more interestingly to me, there's going to be an altogether new series of Bone stories called
Quest for the Spark
, in which the character of Bone return to the valley years after
Bone
ends. First one should be out February 2011.
The other bit of news I found interesting is that the late Will Eisner's A Contract with God is going to be made into a movie? It'll be an anthology film, with four different directors for the four separate parts. Which I hope heralds an Eisner renaissance. There's a bio of Eisner on the horizon (November 2010 to be precise) that some people here are already reading that sounds really fascinating.

Was there anything else utterly awesome that I missed?