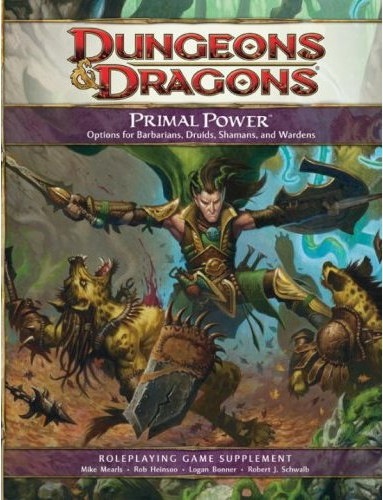 As might be readily apparent, we're pretty nerd-heavy here at the Brooklyn outpost of Shakespeare & Co. Lit nerds, theatre nerds, sci-fi nerds, gamer nerds--all roads high and low that lead to role playing games. The entire store is part of the same
Dungeons & Dragons
campaign (except Dante--but we'll get him eventually). This week,
Wizards of the Coast
released their new
splatbook
for Druids, Barbarians, Shaman and Wardens, with new powers, class features, paragon paths, &c. Maybe you do not know what any of these things mean. You should ask one of us. Trust me, it's pretty sweet! Particularly for Erica, our druid. She's been the only member of our group who didn't have access to an expanded list of powers.
I wish it wasn't such a hard sell around here. We've got a ridiculously knowledgeable staff and a pretty solid selection of D&D books and minis for a bookstore of our size. Or, period, really. Aside from being the only bookstore within
miles
in this neighborhood, we're pretty much the only bookstore in Brooklyn that cares about the subject of rpgs at all. Manhattan has the
Compleat Strategist
, and I remember growing up in the 80s in south Brooklyn and seeing lots of D&D stuff in the book store in
Kings Plaza
, but you don't find role playing games in mainstream bookstores so much any more. Our customers long ago became hip to our comic book section, as consumers have become hip to illustrated fiction in general, but the other shoe hasn't yet dropped for books involving dice-rolling. Until then, we'll keep plugging away and hope the New York Times starts recognizing rpg literature the way they've
started with comics
.